Using the train booking engine, travellers can easily make their train bookings and receive their online tickets directly by paying with credit card. The passage to the counter or ticket machine is therefore no longer required.
The train booking module of Atlatos Profi Traveller is based on the BIBE interface of Deutsche Bahn, which accesses the company program bahn.corporate. To set up the booking module, the customer number, the so-called BMIS number of the company is needed. With a corresponding rail form, a  new customer number can be requested or an existing number can be unlocked for Atlatos. All train bookings of the employees thus automatically run on the company account at Deutsche Bahn for the discount depending on the train volume.
As soon as the BMIS number has been deposited and activated by Deutsche Bahn, the booking mask (as shown above) will be visible to all authorized travellers of the company.
After entering the required data such as start & destination, travel date and travel time, details and connection as well as the data for the BahnCard, the possible connections are displayed by clicking on "search".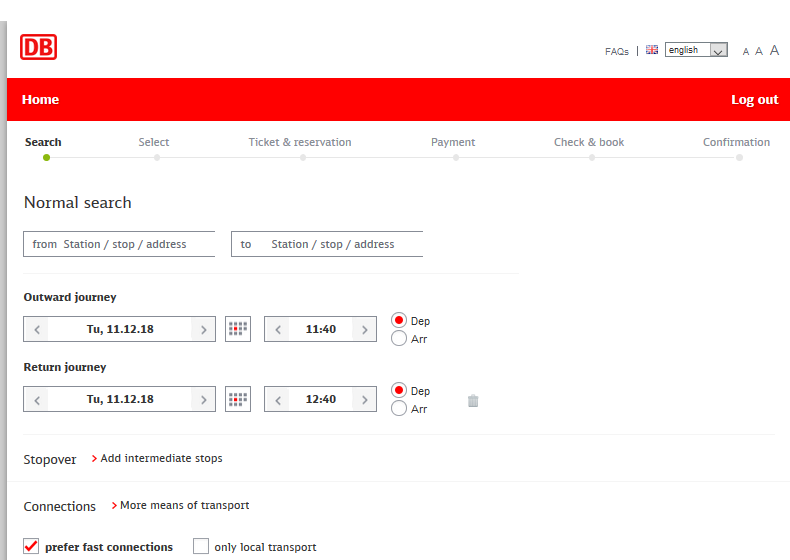 After selecting the suitable connection, the train journey can be booked by specifying the corresponding booking data.
The traveller receives the online ticket directly after booking. Via "DB booking search" the traveller can call up the PDF printout for the ticket at any time. In Atlatos, train bookings are only displayed 24 hours - 48 hours later.