In this Quick Start Guide, we'll explain how you can use the Atlatos Expense Engine to easily settle your travel expenses.
About → My data → Travel expense settlement
you can easily settle your travel expenses.
If you want to settle a trip with receipts for which no booking exists in Atlatos Profi Traveller, continue with option 2 "Manual travel expenses". If you would like to make a travel expense report for colleagues, please select the appropriate traveler before creating the travel expense report at → Travel Management → Team Booking. Then go to → My Data → Travel Expenses.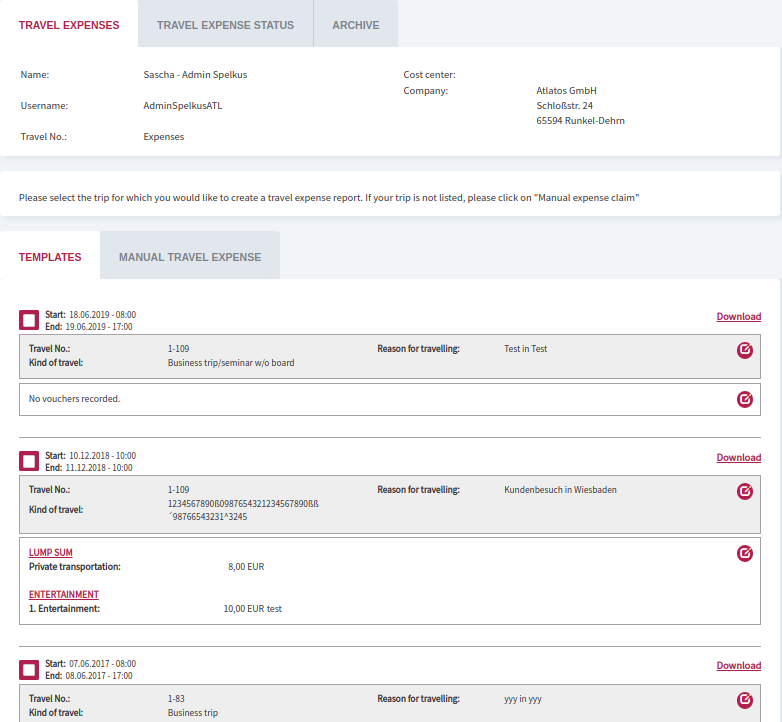 Option 1: Travel expense report of travel services with booking via Atlatos
Click on the checkbox to select one or more blocks that you want to settle. Then click on the "Select" button at the end of the page.

Then enter the cost centre, if not already filled in, and if necessary a comment on the trip.

If your travel times and the travel reason have changed, click on travel reason/travel times and change them.

Then enter additional receipts. The date, expense type and price are important here.

Indicate the number of kilometres travelled in the case of travel costs incurred for the private car.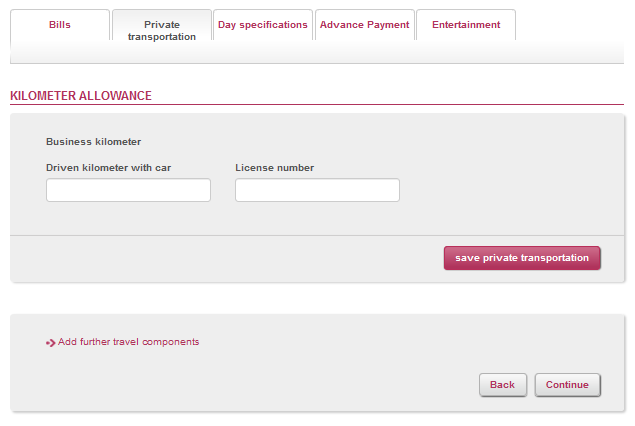 If you are entitled to a meals or accommodation lump sum, click on the corresponding selection field under "Daily specifications". Now indicate whether you have claimed free meals or meals paid by your employer when paying out meals lump sums. If you have claimed free meals, click on the corresponding meals.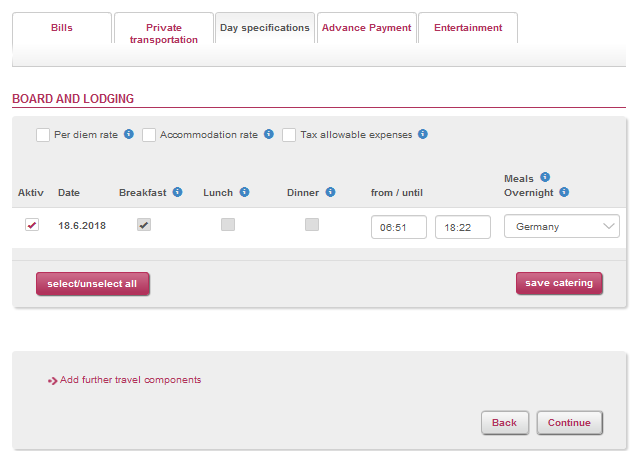 When you have made all the entries, click "Next". Check all your details on the PDF proof and then click on "Forward". The travel expense report will now be sent to your supervisor for approval and you will no longer be able to make any changes.

Complete the PDF printout with the corresponding receipts and send them to the department responsible internally.
Option 2: Travel expense report with receipts without Atlatos booking
To carry out a travel expense report for which no modules of booked travel services exist, choose the selection button "Manual travel expense".

Then click on "Create" and complete the settlement.