This description explains how the corporate logo and the design of the surface according to your corporate design can be changed.
Select "my company"-> "design"
Now you will be able to change the color of the scripture, the icons and the buttons. In addition to this - you can upload different files, for example your corporate logo.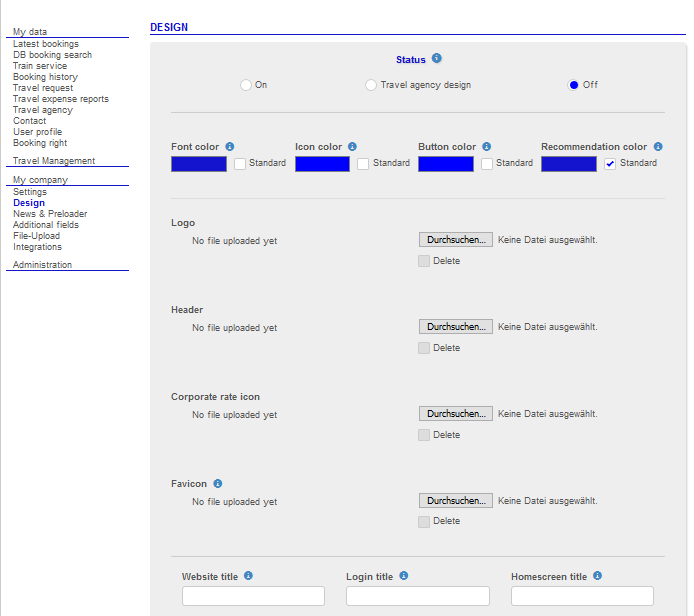 With the option "font color" you can change the base color of the portal. The headlines, the margins and the borders will be shown in the color selected by you.
With the option "icon color" you can change the icons' color within the the navigation bar.
With the option "button color" you can change the color of the buttons with gradient generated from your desired color.
In order to to change the color, click on the box of the respective option.
If you would like to see your own logo in Atlatos, click on the "search" button. Here you can upload the relevant file. Your company logo will be displayed at the top of your profile.
In addition you can upload a GIF file for the "flavicon". The image file selected here will also be used as a logo if you save a link to the mobile version of the portal on your smartphone home screen.
In addition to the selection of colors and logos, you have the option to specify different titles:
Title website: determines the global website title on this portal for your business

Title login: determines the headline of the login-field

Title homescreen: determines the short title of the icon on the IOS homescreen if you save a link to the mobile version of the portal on your homescreen
In order to determine a title, you can enter the desired text in the relevant field.

If you use the "portal link" the login page will match with your chosen design. The links with the pre-filled fields, that employees receive via mail with the access data, also lead directly to the login page in the corporate design.
To save your settings, please click "save".