When creating a travel expense report, the traveler may enter and upload hospitality receipts via the Hospitality tab. All relevant data is requested within mandatory fields. Should the traveler not enter a value in a mandatory field, the entertainment receipt can not be saved and an error message is displayed.
Within the settings for travel expense reporting, you may specify whether the traveler must upload a receipt (photo, scan) each and every time a hospitality receipt has been entered. Has this function been activated, an error message will be displayed if no receipt was previously uploaded.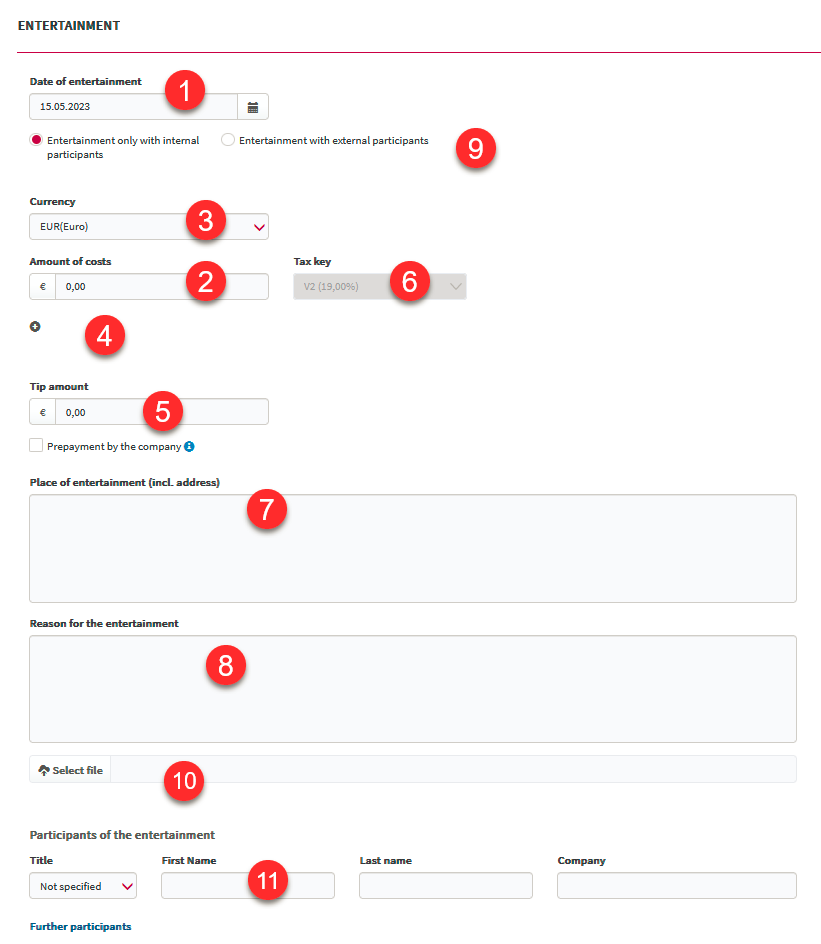 Any number of hospitalities may be added to the expense report. The date of entertainment (1), amount of costs (2), currency (3) and tip amount (5) can be specified. The document number (4) is auto-generated by the system. In addition, the tax key (6) can be selected (if configured correspondingly) and the entertainment location (7) and reason for entertainment (8) can be stored.
Things to know about hospitality
What are hospitalities?
According to R 4.10 of the Income Tax Guidelines (EStR), hospitality expenses are expenses for the consumption of food, drinks as well as other luxury foods and may be deducted either in full, only in part or not at all. Hospitality expenses may include expenses that are necessarily related to hospitality and are considered to be of minor importance in context of the total amount charged, such as tips.
However, according to income tax guidelines, hospitality does not include customary/cultural gestures, such as coffee and cookies at a company meeting.
What are operational-related hospitality expenses?
According to R 4.10 Income Tax Guidelines (EStR), business-related hospitality expenses that are not business-related, are costs incurred for employee entertainment purposes. Such incurred costs may be taken into account and regarded as business expenses at a tax-reduction rate of 100 %, as well as the associated additional expenses (tips, checkroom fee).
When the traveler indicates in Atlatos that internal participants have been hosted, the account internal hosting is automatically addressed, which then in turn allows for 100 % reduction to be considered as operating costs.
What are business-related hospitality expenses?
A business event is to be considered as such, when for reasons of hospitality business associates or potential business associates have been hosted. Business associates are persons with whom business is conducted/concluded or initiated, including their participating employees, e.g. customers, tax and legal advisors and suppliers. Hospitality for visitors to the company, for example as part of public relations work, is also business-related. According to Section 4 (5) No. 2 of the German Income Tax Act (EStG). Only 70 percent of business-related entertainment expenses, which must be considered to be reasonable and properly documented, may be deducted from tax. Since tips are included in entertainment costs, the applicable restrictions for the deduction of business expenses is also applicable here.
Atlatos provides a function for percentage splitting. A detailed description can be found in the article "Entertainment costs split 70:30".